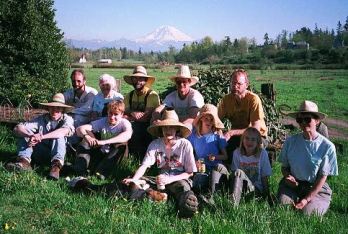 Hay Man!
Each year we have high-quality 1st and 2nd cutting hay available in the field or out of the barn. We also have dry round bales and haylage. For more info on our hay go to our HAY page, or contact us.
Sale!
Tree Planting - March 2006
A second stand of white pines get planted. Click here for more details.
Harvest Fest 2010
This year's Harvest Festival was Sunday, 29-August. It went great and we had around 300 people thru the day. I will be making a page of photos and descriptions soon and when it's done, you can see it by clicking here. When we plan our next event, we'll have it posted here.
Harvest Fest - Previous Years
Murray LLC Harvest Festival 2009
Murray LLC Harvest Festival 2007
Murray LLC Harvest Festival 2006
Murray LLC Harvest Festival 2005
Murray LLC Harvest Festival 2004
Murray LLC Harvest Festival 2003
Welcome to the Murray LLC website.
Members of the Murray family jointly own and operate the corporation, raising hay and timber. Family members also operate their own independent businesses. These ventures include jazz piano, Hereford beef, peonies, and excavation services. More information about them can be found by following the links listed on the left side of this page.
Murray LLC Location
38514 212 Ave SE
Auburn, WA. 98092-9737